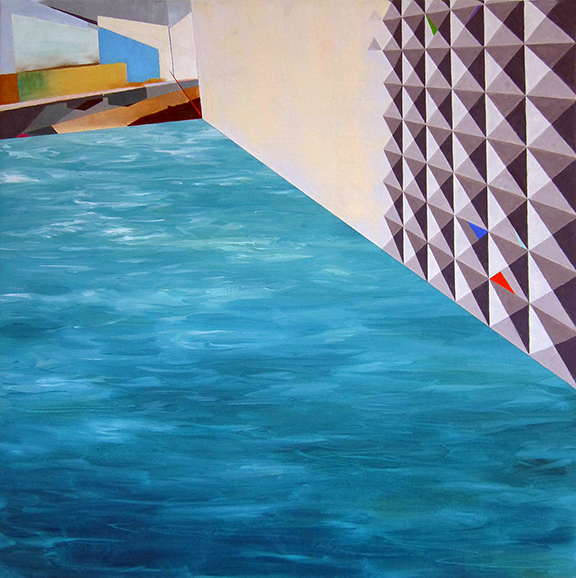 Artist's Statement
For the past two years I have been focused on a body of work that explores Istanbul's multicultural make-up and complex history as is plays out across the breadth and depth of the city. During this investigation, I have observed and interacted with structures, public spaces, and social and cultural dynamics within the city. This body of creative work engages particular intersections of faith and culture, and the manner in which they play out across the city of Istanbul. With color and structure as a starting point, I set out to represent in paint the city's layers as I discovered their effects on each other – and ultimately upon me as an artist. As I explored more of the city, whether from a taxi, on foot, or using public transportation – the resulting paintings have served as visual correlates for this reality that oscillates between sight and sensation. Istanbul, much like other urban centers, challenges my ability to find an appropriate expression for its seemingly endless layers that fluctuate between growth, depression, and renewal.
To achieve a better understanding of the multi-cultural makeup of the city, essays and texts on art theory and aesthetics have heavily informed my research on landscape and experience of place. This includes an exploration of the limitations of public space, fieldwork, and place and locality. Multimedia artist Adam Chodzko writes in Out of Place that public spaces are networks of communication, exchange, desire, and engagement. These networks are flexible and constantly changing. I found this to be true of Istanbul.
As I engaged the city, its flexible nature became contingent on my engagement.
Istanbul captivates me. It is an appeal that stems from a deep-rooted interest in the relationship between structure and place, rational and irregular. Sometimes these interactions are simplified and harmonious, and at others, they are chaotic and dissonant. Born out of observation and memory, working from an engagement with the city manifests on canvas as a catalog of moments spent within a multifaceted, fractured, and glorious urban context. It is a personal reflection of the individual – me – born out of a deeply held desire to reflect and actively interpret place.
I have both a healthy respect for - and fear of - these layers and the manner in which they manifest in community. It is not primarily a sense of curiosity that keeps me engaged and looking, but the hope of finding a context for understanding the urban condition and myself in it.
All artwork © Gretchen Batcheller.